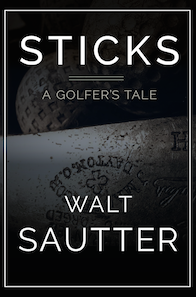 Bob Andrews has just bought a new set of golf clubs and he expects big things to happen to his game! And big things do happen, but not what he expects! Come along and play with Bob.
Let your mind wander. Could it happen to you? Read "Sticks"
Trailer for Sticks
Reader Comments
1puttit replied to "Sticks – A Golfer's Tale" – A fun golf story on November 17, 9:52 pm.
Good story Walt. Thanks for posting it. I enjoyed it.
*
I read the book today. Good job! I really it. It has an interesting "mystic" feel to it. I didn't see the end coming.
Congrats again on a job well done. – Steve Politi Sports Writer – Star-Ledger
*
What a great book it is. I read it from front to back as soon as I got it. I couldn't put it down. It had everything.
Funny, sad, joyful and sorrowful, It could be better than "The Greatest Game Ever Played".
It was that good, Thanks again for such a great story. Mike P. – Golfer and Reader
*
You let me see every shot Andrews made in my mind. I liked the flow.
I enjoyed not knowing where you were going with Bob's story. Thanks for the fun. Sally G – Golfer and Reader